Why Choose Rainbow??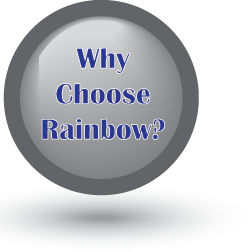 Mature 3PL Non-Asset Based Transportation
Company
Online Load Tracking: You can view live status
updates, driver information, load information
& audit your own fright bills.
Storage Trailers Available
Cross-Town Cartage Service Storage
Trailers include: Conestoga, Container, Double-Drop, Flatbed, 53ft Flatbed, Flatbed Team, Flat or Stepeck, Flat w/Tarp, Flat w Tree Tarps, Flatbed or Van, Flat with Sides, Hotshot - Flatbed, Low-Boy, Power Only, Reefer, Removable Goose Neck, Roll Top Conestoga, Step-Deck, Sprinter Van, Stretch, Double-Drop Stretch, Straight Van, Van, Air-Ride Van, Auto-Drop Van, Cargo Van, Logistics Van, Van Team, Van or Reefer, Van Hazardous, and more...
3 - 24' HOT SHOTS with Lift Gates
Company owned facility ½ mile off of I-59 exit 181, Gadsden, AL
48 State Authority with Inernational door-to-door delivery into Canada.
Contingent Cargo Insurance $100,000 coverage with Two Million Dollar Umbrella
We prefer to build "Partnerships"
---
---